Extreme Execution Capabilities
All our operations are powered by two principles
a) Anything we do should be highly professional and with extreme execution capabilities
b) We should constantly review our process steps and keep improving them periodically for the institution to progress well.
Here below are examples of our unique practices:
People and Processes – Our Guiding Spirit
Simple organisation structure and a well-planned operational framework to address the holistic needs with the end-user in focus.

Flat hierarchy with one-step reach, for decision support.

All Enabling functions are handled by highly skilled resources.
Operate as one team with mutual respect and dedication.

Many unique and best-in-class offerings to up-keep high standards.

Performance-driven culture. Open and friendly approach. Clearly defined roles and responsibilities for all functions within.

Comprehensively drawn up Processes to address all needs.

Constant learning with ongoing facilitation, to address new situations.

Standardisation as the proven mechanism for routine redressals
Serene, Clean and Green campus.
Location well connected by all modes of commutation.
Peace and devotion-filled atmosphere with a temple in-house. Full-fledged and well-maintained Gaushala within the campus.
Adequate and ever-improving infrastructural facilities to enable comfortable living and facilitate seamless learning for our kids.
Consciously built-in safety norms.
Secured campus with 24 x 7 CCTV coverage from all vantage points.
Hygienic, Healthy and Filling Food served at the proper intervals to all inmates. A2 milk, obtained from our 80+ Desi Gaumathas, is used.
All our Adhyapaks and key staff are offered housing within the campus to offer 24/7 attention to our students.
Adept in using technology for operational effectiveness.
Zeal to reach out globally and share our offerings to all needy.
Best in class welfare schemes in practice, offering high living standards and comforts for all our inmates.
One bowl of fruits in forenoons for extra nourishment. Variety snacks are made in-house and served to our children in the evening.
No outside cooked food in any form is allowed inside the Campus
Campus-wide RO water is provided to all inmates for drinking.
Feeding farm-grown green grass to all our Gaumathas thrice every week.
Continuous Improvement Initiatives
Starting with a 4-Vidhyarthis base in 2012, our Maha Vidyasthanhas grown to 208+ Vidhyarthis by2022.
We have growth plans to become a 550-base institution by 2025.
Residential Veda Camp for Non Vedic Children
Conducted, Ten batches so far.
Seven Hundred school-going children, in the age group of 10 to 14, and following our sampradaya, were oriented on our rich culture and tradition.
So far, conducted two weeks of residential camps for them since 2013 during their summer vacation.
Trained them on Sandhyavandhanam, Samithadhanam, Sri Rudhram, Vishnu sahasranamam, Ganesha Atharvasirsham and other slokhas.
Guest lectures by eminent scholars.
Indoor and outdoor games are arranged inside our Ashram campus to keep their spirits upbeat.
Various activities like performing poojas, feeding cows, gardening, yoga, visiting nearby temples and feeding the poor are covered.
Training the children to do all their daily routines by themselves.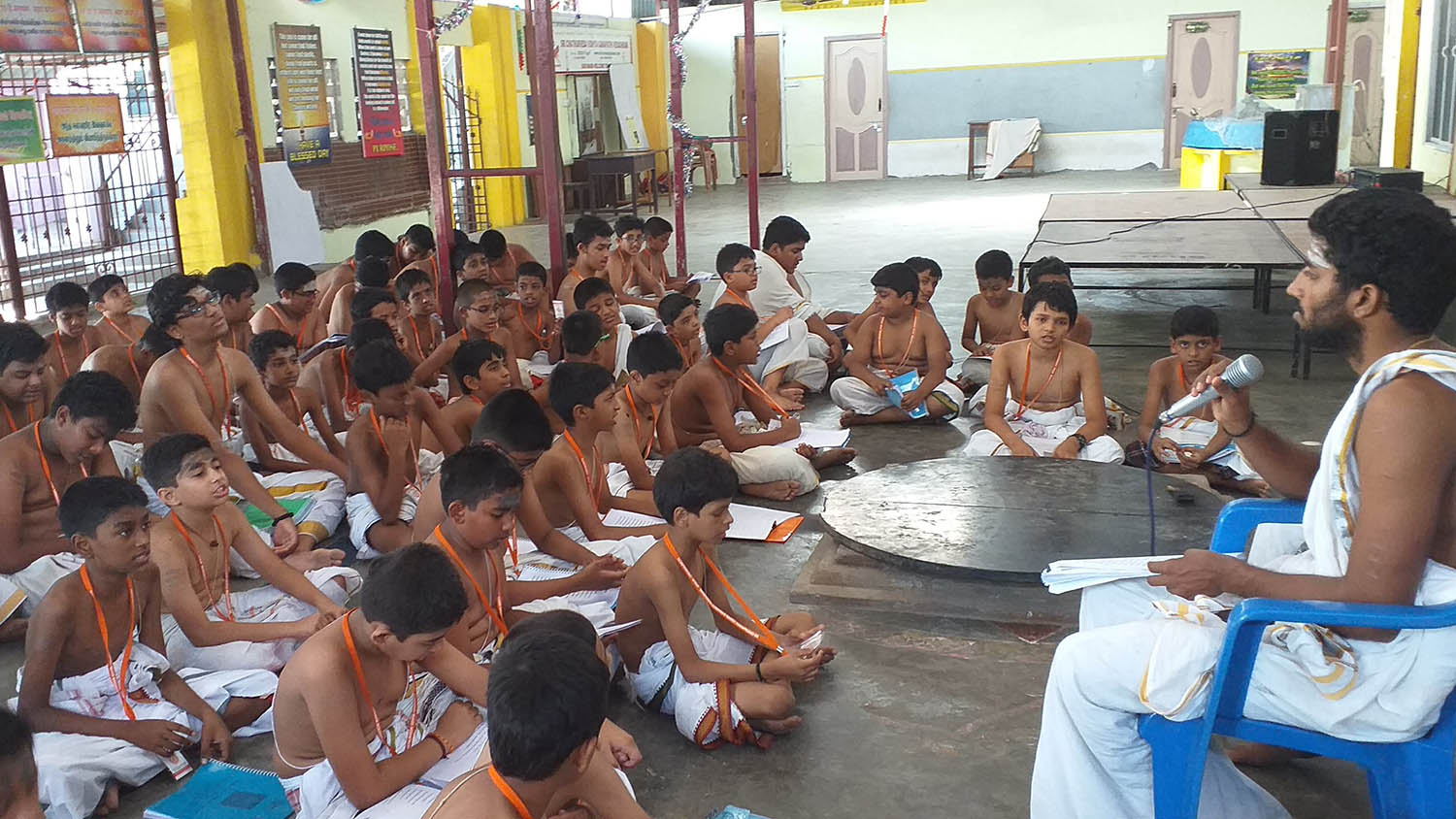 Facilities for the Vidyarthis
Sanskrit, English, Maths, Yoga and physical education taught for the Vidhyarthis
Tied up with Ahobila Mutt School at Madhurantakam for taking 10th and 12th equivalent exams
Exams/ Certificates in Vedas given by Veda Rakshana Nidhi Trust
A dormitory-style accommodation, free of cost provided
Four weeks of leave during Summer - from mid-April to mid-May every year.
Vidhyarthis at all levels are encouraged to perform Veda parayanams to boost their confidence level.
All kids learn a minimum of 4 regional languages during their stay here.

One mobile phone is available with an admin co-ordinator for parents to reach their wards
Visits by parents on non-adhyayana dhinams with prior information
Medical Insurance coverage of Rs. 1 lakh each for all Vidhyarthis and staff, spouse and children.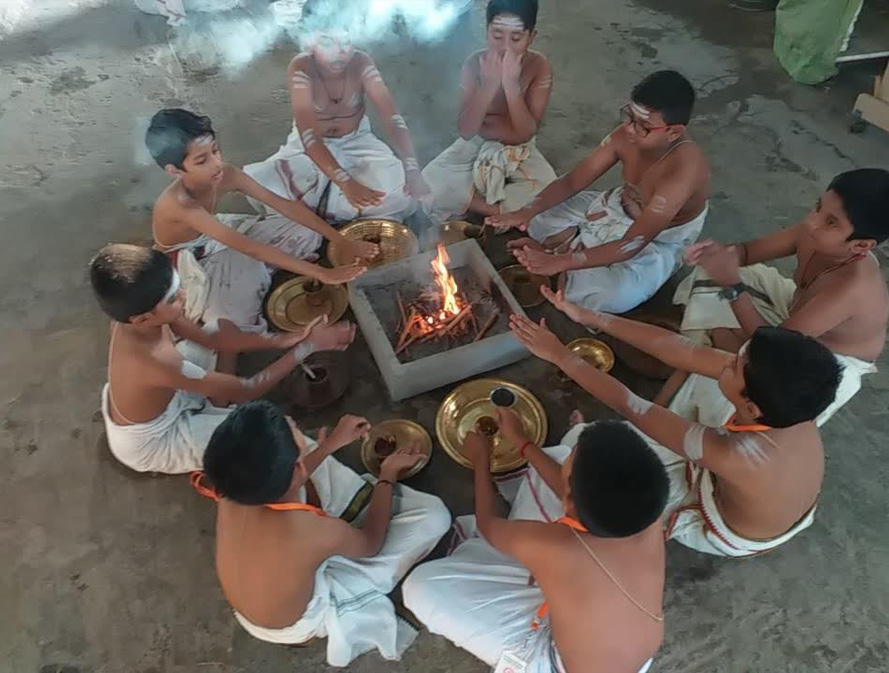 One full-time student wellness manager ensures holistic grooming of Vidhyarthis and updates parents on their wards' progress
Indoor and outdoor play equipment's for students' physical wellness
Free food
Milk/ Tea in the early morning – 5.00 a.m.
Breakfast – Tiffin/ Pazhayamudhu at 8.00 a.m.
One bowl of fruit in the forenoon for extra nourishment.
Milk, Idli for Breakfast once a week and Chappathi for dinner every Saturday night.
Lunch with Curry/ Koottu, Sambar, Rasam and Butter Milk
Snacks at 4:00 p.m. – Sundal, variety snacks, Biscuits and Milk/ Tea
Dinner - Rice, Sambar, Buttermilk; Tiffin on Ammavasai/ Masa Pirappu days
Nativity of Vidyarthis
Vidyarthis Hail From
Tamil Nadu
Karnataka
Andhra Pradesh
Telangana
Orissa
Maharashtra
Gujarat
Uttar Pradesh
Madhya Pradesh
Bihar and
Union territories of Goa, Delhi and Puducherry
Vidhyarthis Qualified:
| | | |
| --- | --- | --- |
| Year | Ganantham Poorthi | Kramantham Poorthi |
| 2013 – 2014 | - | 5 |
| 2014 – 2015 | 5 | - |
| 2015 – 2016 | - | 5 |
| 2016 – 2017 | 2 | 6 |
| 2017 – 2018 | 4 | 4 |
| 2018 – 2019 | 4 | - |
| 2019 – 2020 | 6 | 5 |
| 2020 – 2021 | 5 | 6 |
| 2021 – 2022 | 11 | 11 |
| Total | 37 | 42 |
Many of our Vidhyarthis have won prizes in the inter-Patashala competitions and scored very high marks in periodic external examinations conducted by
Veda Rakshana Nidhi Trust (VRNT)
Veda Sastra Udhdhejaga Sabha, Pune
Chakyabhi Vardhaga Nilaya Veda Sastra Pariksha, Saripalli, Andhra Pradesh
Sringeri Sharada Peetam and
Om Charitable Trust
Daily Routine for Vidyarthis
4.30 - Getting up
5.30 - Sandhyavandhanam& Samithadhanam
7.00 - Pooja for the deities
8.00 – Break Fast
8.30 to 11.00 – New Patam
11.30 - Madhyanikam
12.00 - Bhojanam
1.00 - 2.30 Break
2.30 - 4.00 Patams continued
4.00 - 5.30 Snacks and Playtime
5.30 – 6.15 Sayam Sandhyavandhanam & Samithadhanam
6.15 to 8.15 Patamrehearsals, recital of Vishnu sahasranamam and other Slokhas
8.30 Dinner
9.30 Sleep
Academic subjects in the afternoonare scheduled in between Vedic classes in batches.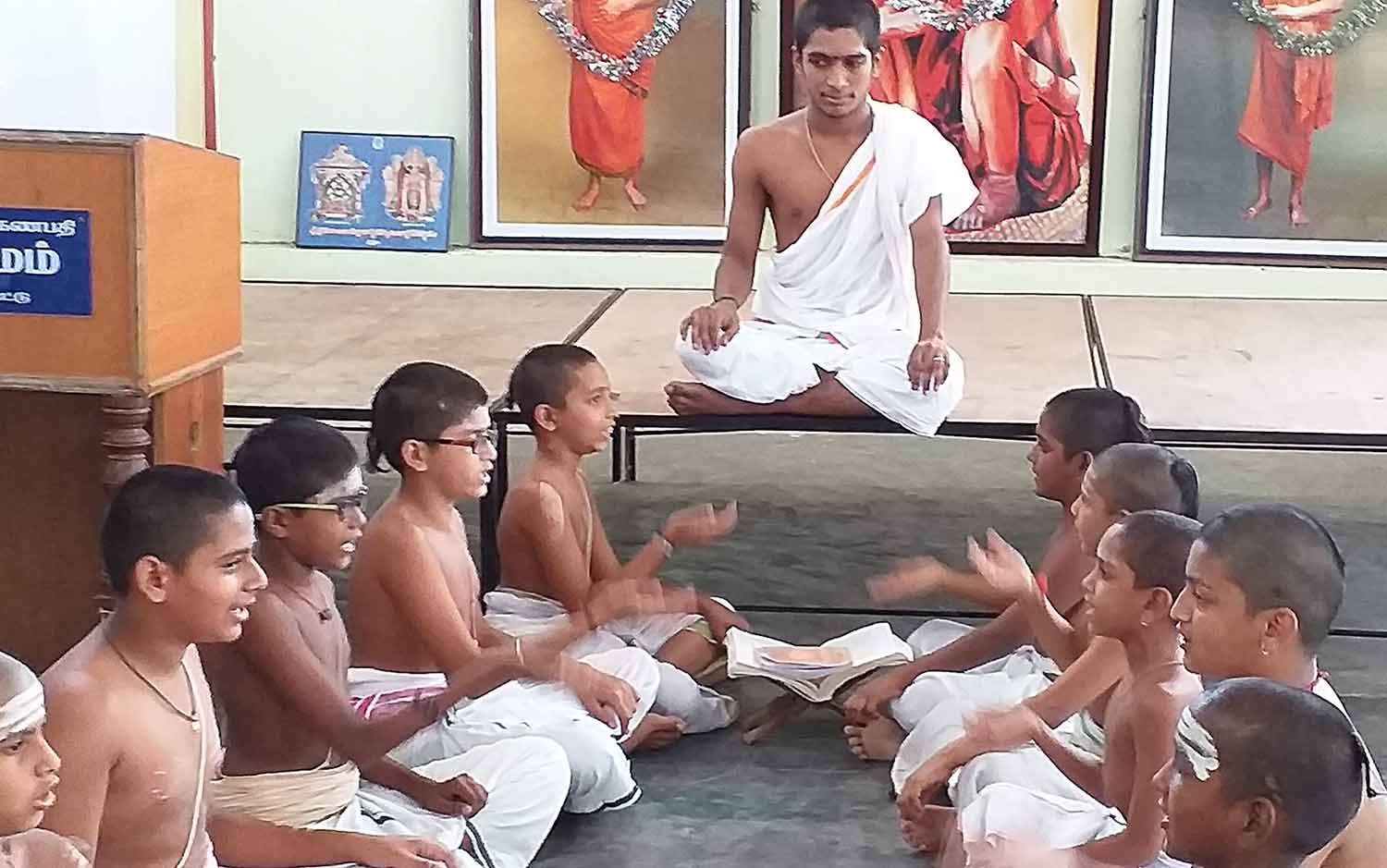 Why SCVG? – Points for Consideration
For Parents of children
Committed and good Adhyapaks.
Excellent infrastructure.
Good Accessibility (Near Chennai).
Holistic education that includes Sanskrit, Yoga, basics of English and Maths are taught.
Only institution offering higher studies in Shukla Yajur Veda in Tamil Nadu.
Potential to pursue higher Vedic learning like Sastra Vicharam, Bhashyam, Vedantam etc. at Maha Vidyasthan
Continuous growth and progression.
Visit of Mahans, Sadhus, Scholars and Professionals and their blessings.
VEDIC SUPPORT EXTENDED TO OTHER INSTITUTION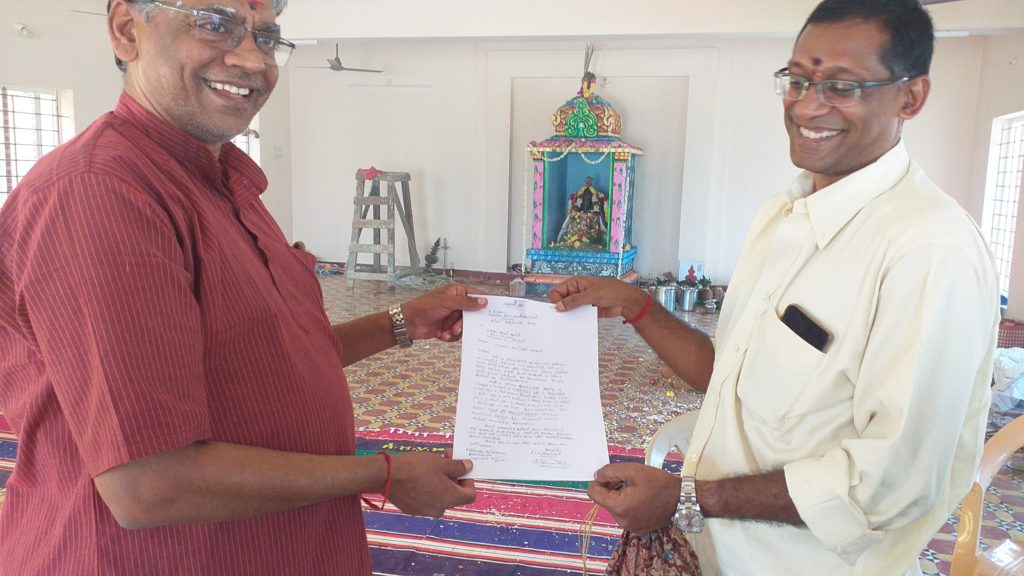 SCVG-VSMV has extended support to the following Patashalas by lending Vidhyarthis and Adhyapaks and helping them with continuous Vedic education in these institutions.
Swaminathar Trust, Cuddalore
Om Sri Skandhasramam, Salem
Sri.Sarguneswarar Veda Patashala, National College Campus, Trichy
Sri Saradhambal Charitable Trust, Sengottai
Sri Rama Vedapadasala, Kettavarampalayam
Sri Raghavashram, Mambakkam, near Vandalur, Chennai
Nagarathar Padaga Salai, Pallathur near Karaikudi
SCVG-VSMV extends academic and supervisory support as and when needed, while Logistics and Finance are the responsibility of the respective institutions.