Extreme Execution Capabilities
All Teachers and key staff reside inside the campus offering 24/7 attn and support.
Academic education in parallel
Sanskrit education given utmost importance.
2 Full time Sanskrit Adhyapaks with Digital aids
Meritocracy motivated and rewarded.
Aksharabhyasam till Ganantham and Prayogam – All under one roof.
Best Education within prescribed duration.
Children lead a Happy life here with all their basic needs met by the Organisation.
Children are taken for long tours to places of Historic and Spiritual significance every year.
Continuous Improvement Initiatives
Grown from a 4 student base in 2012 when we started our Vedashram to 145+ in 2019
We have growth plans to become a 550 base institution by 2025
Residential Veda Camp for Non Vedic Children
Conducted 10 batches so far
700 school kids - Brahmin boys in the age group of 10 to 14 were oriented on our rich culture and tradition.
Conducted 2 weeks of residential camps for these kids in 10 batches from 2013 during their summer vacation.
Trained them on Sandhyavandhanam, Samithadhanam, Sri Rudhram, Vishnu sahasranamam, Ganesha Atharvasirsham and other slokhas.
Invited guest lectures by eminent scholars for them.
Indoor and outdoor games arranged inside our Ashram campus to keep their spirits upbeat.
Various activities like performing poojas, feeding cows, gardening, yoga, visits to nearby temples, poor feeding included as part of the curriculam.
Trained them to do all their daily routines themselves.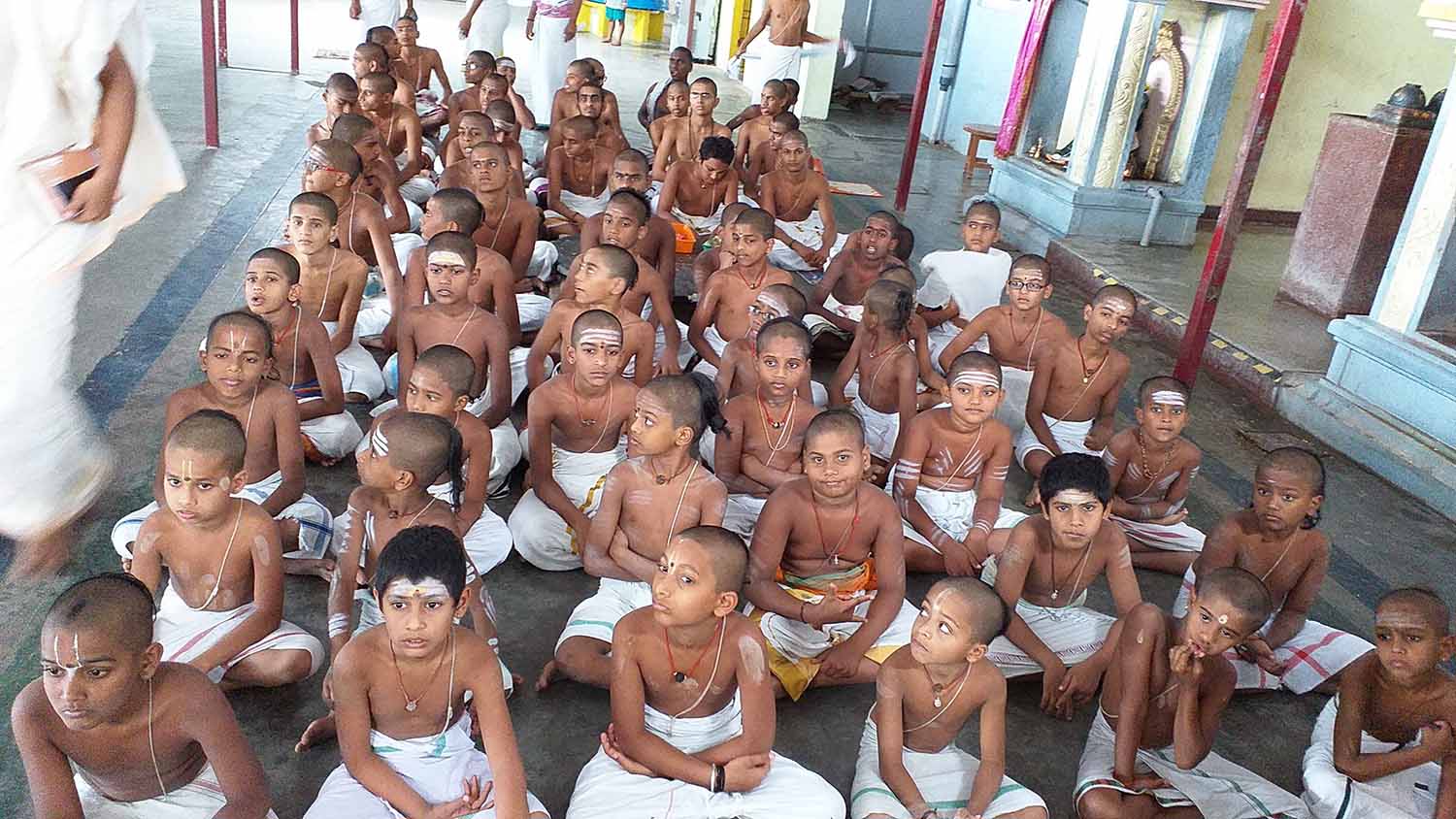 Facilities for the Vidyarthis
Sanskrit, English, Maths, Yoga and physical education being organised for the vidyarthis
Tied up with Ahobila Mutt School in Madhurantakam for taking 10th and 12Th exams
Exams / Certificates in Vedas by Veda Rakshana Nidhi Trust
Common Dormitory Stay free of cost
Free food
Milk / Tea at early morning – 5.00 am
Breakfast – Tiffin / Pazhayamudhu at 8.00 am
Lunch with Curry / Koottu, Sambar, Rasam, Butter Milk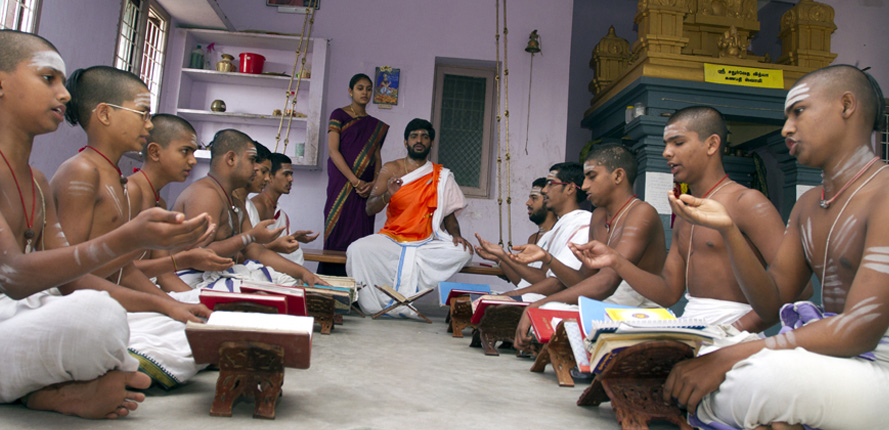 Snacks at 4.00pm – Sundal, Biscuits, Milk / Tea
Dinner - Rice, Sambar, Butter milk; Tiffin on Ammavasai and Masa Pirappu
Idli for Breakfast once a week and Chappathi on every Saturday night.
5 weeks leave during Summer - from 4th week of April till end May every year.
One mobile phone available with admin co-ordinator for parents to reach their wards
Visits by parents on unadhyayana dhinams with prior information
Stay facilities available for visiting parents.
Medical Insurance coverage of Rs. 1 lakh each for all Vidhyarthis and staff, spouse and children.
Periodic medical camps conducted and medical records maintained.
One full time student wellness manager ensures holistic grooming of Vidyarthis and update parents on their wards' progress
Indoor and outdoor play equipments for students' physical wellness
Nativity of Vidyarthis
Vidyarthis Hail From
Tamilnadu
Andrapradesh
Telengana
Karnataka
Maharastra
City of Varanasi
Total - 141
Vidhyarthis Qualified:
2013-14 - Kramantham Poorthi – 5 students
2014-15 - Ganantham Poorthi – 5 students
2015-16 - Kramantham Poorthi – 4 students
2016-17 - Kramantham Poorthi – 6 students, Ganantham Poorthi – 2 students
2017-18 - Ganantham Poorthi – 2 students, Kramantham Poorthi – 3 students
2018-19 - Ganantham Poorthi – 2 students
Many of our Vidhyarthis have won prizes in the inter patashala competitions and scored very high marks in periodic external examinations conducted by
2013-14 - Kramantham Poorthi – 5 students
VRNT
Veda Sastra Udhdhejaga Sabha,Pune
Chakyabhi Vardhaga Nilaya Veda Sastra Pariksha, Sariballi, Andhra Pradesh
Sringeri Saradha Peetam and
Om Charitable Trust
Daily Routine for Vidyarthis
4.30 - Get up
5.00 - Pooja for the deities
5.30 - Sandhyavandanam & Samithadhanam
8.00 - Breakfast
8.30 - 11.00 – New Patam
11.30 - Madhyanikam
12.00 - Lunch
1.00 - 2.30 Break
2.30 - 4.00 Patams
4.00 - 5.30 Snacks and Playtime
5.30 – 6.15 Sayam Sandhyavandhanam & Samithadhanam
6.15 to 8.15 Pata reharsals, Vishnu sahasranamsm and other Slokhas.
8.30 Dinner
9.00 Sleep
Academic subjects in after noons – scheduled in between Vedhic classes in batches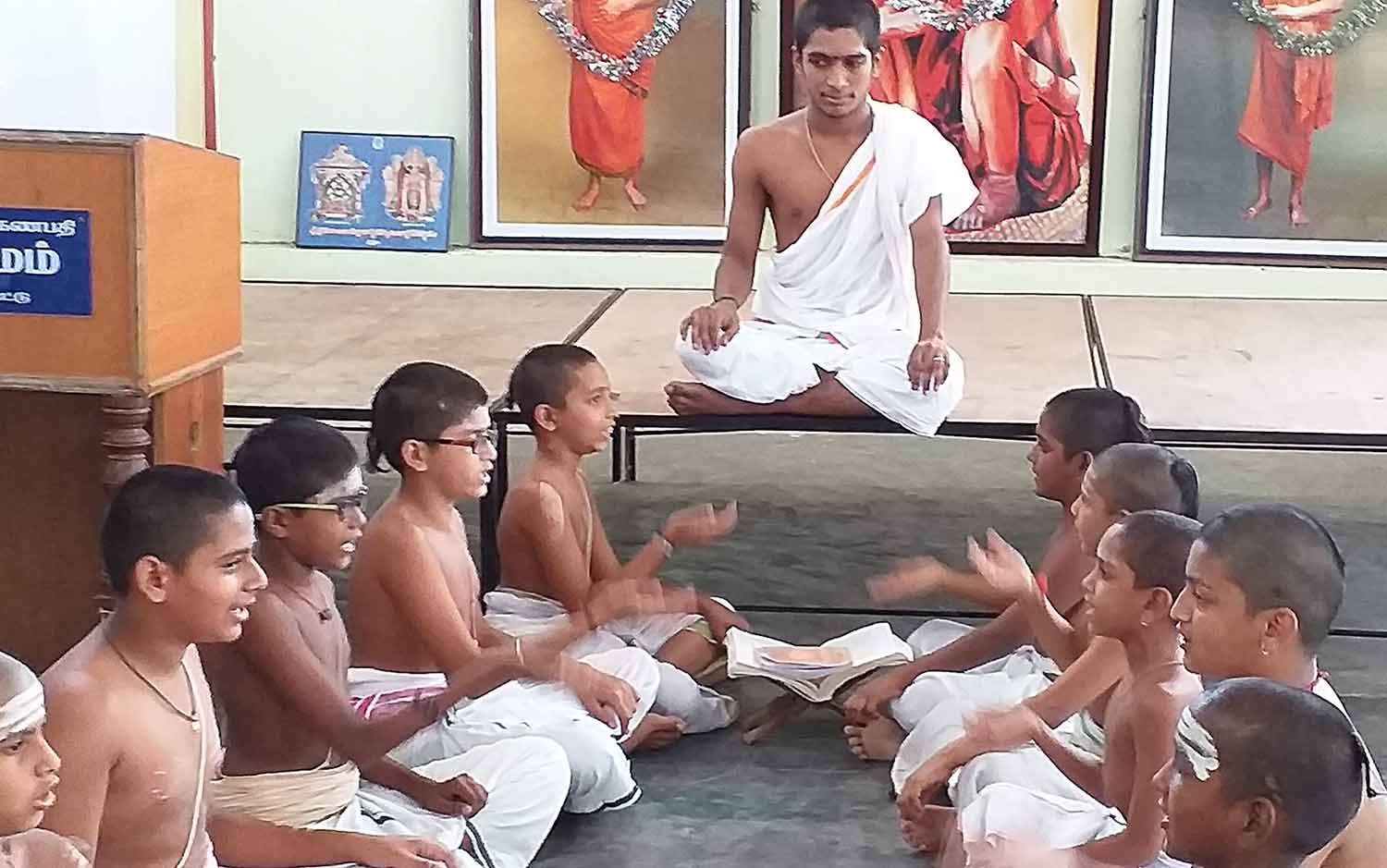 SCVG Vedashram – Points for Consideration
For Parents of children
Committed and good Adhyapaks
Excellent infrastructure
Good Accessibility ( Near Chennai )
Holistic education including Sanskrit, Yoga, basics of english, maths etc.
Only institution offering higher studies in Shukla Yajur Veda in TN
Potential to pursue higher vedic learning like Sastra vichara, bhashyam, vedantam etc
Constant growth and progression
Vedic support extended to Other Institutions
SCVG Vedashram has extended support to the following patashalas, by lending Vidhyarthis and adhyapaks and revived Vedic education in these institutions
Swaminathar Trust, Cuddalore
Om Sri Skandhasramam, Salem
Sri.Sarguneswarar Veda patashala, National College Campus, Trichy
Sri Saradhambal Charitable Trust, Sengottai
Sri Rama Vedapadasala, Kettavarampalayam
Sri Raghavashram, Mambakkam , Near Vandalur, Chennai
SCVG Vedashram extends continuous academic supervisory support to these institutuions